Environment
Environmental responsibility is a top priority
KUB's role in the community goes beyond providing reliable energy and water utilities. We have a long history of making environmental responsibility a priority.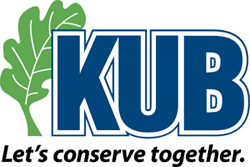 KUB first began using alternative fuels in the 1970s, for example, by converting some fleet vehicles to compressed natural gas (CNG). KUB plans to double its CNG fleet to approximately 100 vehicles by 2020 and support increased use of this clean fuel with construction of a public CNG fueling station. We provide Green Power through the Tennessee Valley Authority (TVA), and we serve as a technical resource to help customers reduce their environmental impact and save money.
Today, environmental concerns are more important than ever to KUB and to our customers. Through partnerships with state and local government, such as the City of Knoxville Office of Sustainability, KUB helps educate the community about conservation. And we practice what we preach: KUB employees recycle a variety of materials and make energy conservation a habit.

We all live in this environment together, and we all have a stake in protecting it. We hope this information helps you learn about steps you can take to help keep our beautiful region clean and green. For an update on KUB's environmental efforts and stewardship activities, see our 2017 report.