Meet the Crew
KUB employees know about power—and about trees.
KUB employees know about power—and about trees. We have full-time foresters who manage the work of our contract crews. And those crews are specially qualified to work near power lines and trained in lateral pruning methods.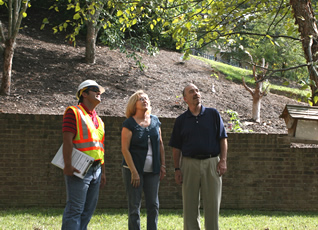 Providing in-house supervision but using contract crews helps keep our program cost-efficient. KUB or contract foresters who specialize in utility pruning inspect the crews' work to ensure it meets our standards and identify areas for improvement.
If you have questions or concerns while crews are in your area, look for the crew member wearing a "Customer Contact" vest. He will be happy to help answer your questions or to help you contact a KUB representative.
At your request, the Customer Contact can instruct the crew to suspend pruning until you can talk with a KUB forester about your options. (The crew will stop work as soon as they can safely do so.)
We'd like your feedback on the crews. To tell us how crews performed in your area, call (865) 558-6658 Monday through Friday, 7 a.m.– 9 p.m., or e-mail trees@kub.org.