Treatment Plants and Storage Tanks
KUB's wastewater treatment service is provided through a network of collection systems and treatment plants. KUB has four wastewater treatment plants that provide physical treatment to remove debris; primary and secondary treatment to settle out and break down any other solids; and disinfection to kill disease-causing germs before the treated water is returned to the river. This process ensures that treated wastewater is returned cleaner than the river itself.
System infrastructure also includes six wastewater storage tanks strategically located around KUB's service territory to allow KUB to relieve stress on treatment plants during heavy rains.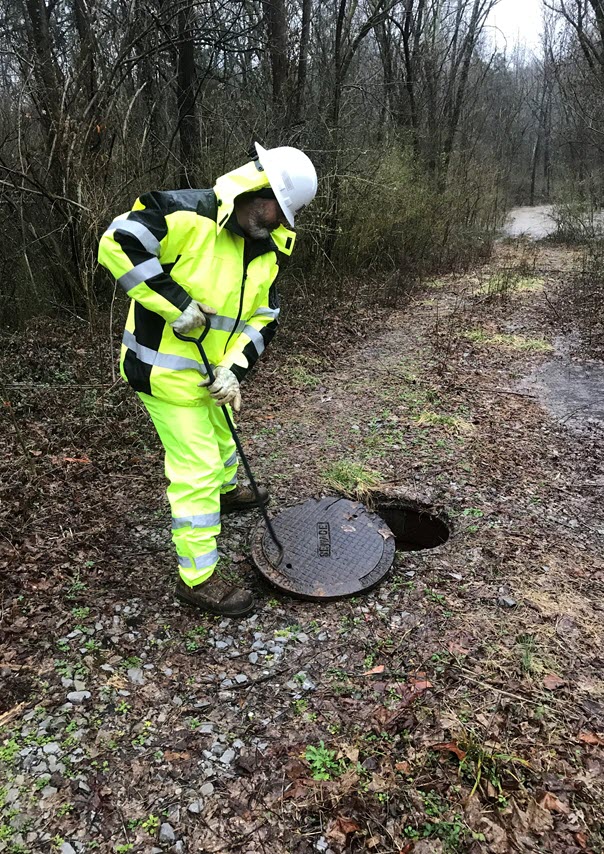 Collection System and Damage Prevention
In order to treat and store wastewater through KUB's system, it must first enter collection systems. This network of pipes, manholes, and associated equipment transports wastewater from homes and businesses to treatment plants. Because KUB's collection system keeps the flow of sewage separate from rainwater, it may also be referred to as a sanitary sewer system. KUB is committed to the continual maintenance and improvement of these systems to ensure reliability while preventing costly breaks that require service outages and repairs, as well as preventing sanitary sewer overflows (SSOs). Click here to learn about SSOs and how KUB and customers can work to prevent them.
KUB has little control over what customers can discharge into private sewer lines; however, customers can help prevent material build-up and system breakdowns by knowing what to flush down toilets and refraining from pouring grease down sinks. Click here to learn more about KUB's Grease Control Program.
How KUB is Improving the System
KUB is committed to the continual maintenance and improvement of all its systems as aging infrastructure requires replacement and upgrades to meet the demands of serving customers for the next 100 years. The Century II program tracks and manages these infrastructure upgrade and replacement projects. Click here to learn more about Century II.
KUB maintains the integrity of its plants, storage tanks, and collection system infrastructure. KUB is currently in the final stages of completing a Federal Consent Decree (CD), which places certain requirements for system maintenance. Click here to learn more about KUB's Consent Decree.
With the implementation of the Consent Decree in 2004, KUB launched Partners Acting for a Cleaner Environment (PACE 10) to address some CD requirements and accelerate system upgrades. Click here to learn more about PACE 10.
In addition to achieving success through the above programs, KUB regularly tests the wastewater system for defects using a variety of proven technologies and techniques. Click here to learn about how KUB inspects the wastewater system to promote continual system improvement.