Electric and Natural Gas Savings
Save money by conserving Electric and Natural Gas
Electric and Natural Gas Savings: Stay Comfortable for Less Money
Your home is your castle - but keeping it comfortable doesn't have to cost a king's ransom.

According to the U.S. Department of Energy, the typical family spends more than $1,600 a year on utilities. Unfortunately, much of that energy is wasted.

Home heating and cooling makes up the largest chunk of your energy use and your bill. The best way to lower your energy bills? Lower your thermostat in the winter and raise it in the summer.

By making a few simple changes, you could reduce your energy bills by 10 to 50 percent. That would also help reduce air pollution caused by burning coal to produce power.
Don't Lose Energy: It Costs Money
Reducing air leaks could cut 10 percent from an average monthly utility bill. Seal leaks around key areas where the air you pay to heat or cool could escape. Energy Star offers a Do-It-Yourself Guide to Home Sealing.
How to Save
Lighting
According to the U.S. Department of Energy, approximately five percent of the typical household's energy bill is allocated to lighting. Choosing energy efficient light bulbs, especially those that have earned the ENERGY STAR rating, can help you save up $75 a year.
Save Money with CFL and LED Lighting
A CFL or compact fluorescent light bulb uses 25% less energy than incandescent bulbs and lasts up to 10 times longer. CFLs can usually pay for themselves in less than nine months, and provide the most benefit when placed in high usage fixtures. It is best to use CFLs indoors, in open fixtures, and in hard to reach places.
A LED or light-emitting diode bulb uses 75% less energy than incandescent bulbs and lasts up to 25 times longer. LEDs emit light directionally; therefore, they produce less heat when used. These features make LED lights safer and more efficient to use in industrial settings, recessed fixtures, and during the holidays.
More ways to Save on Lighting
Here are some more ways you can reduce the energy you use on lighting:
1. Turn off lights when you leave the room.
2. Use lighting controls such as occupancy and vacancy sensors
3. Keep all lamps and fixtures clean.
4. Use task lighting (light for the specific task being done) instead of lighting the entire room
5. Choose light colors for walls and ceilings. Light colors reflect light and reduce the need for artificial lighting.
6. Use floor lamps and hanging lamps near corners. The walls will reflect the light.
7. Let the sunshine in! Open drapes and blinds on sunny, cool days. This reduces the need for extra lighting and warms the room in the winter.
8. Use one bulb to replace several. A 100W bulb is more efficient than two 50W bulbs. Plus you save on the cost of replacement bulbs.
9. Try 50W reflector bulbs in directional lamps (pole or spot lamps). These provide the same amount of light as a standard 100W bulb.
Computers
Here are some tips for reducing your energy costs when using your computer.
Consider an Energy-Star qualified product, if you're in the market for a new computer. Be sure to donate or recycle your old equipment. Knox County and the City of Knoxville accept electronics from residents at the Household Hazardous Waste facility.
Select the energy management settings that are appropriate for your PC, monitor, and printers.
Turn off computers, monitors, and all accessories (e.g., speakers, printers) when you're done for the day. It's a common misconception that you should always leave them on.
Consider server virtualization and efficient cooling methods, if you have servers. Audit your equipment and update or condense where possible to save on energy costs.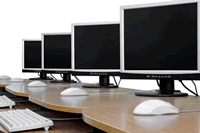 Washers and Dryers
Here are some tips for reducing your energy costs when washing and drying your clothes. Also, if you're in the market for new appliance, consider an Energy Star qualified product.
Clothes Washing
Wash full loads, but don't overload. Your washer will work less efficiently and your clothes won't be clean.
Wash clothes in warm or cold water. Rinse clothes in cold water. Washing and rinsing in cold water can save as much as 90 percent of the energy used with warm and hot settings. A separate rinse water temperature setting allows cold water rinse with any wash temperature.
Check the hose and faucet connections frequently for leaks and loose fittings.
Pretreat stains, use the soak cycle, or let the washer fill and then turn it off to soak. All are less costly than rewashing.
Match the water level to the load size. Some washers have a mini-tub feature that allows for very small loads and low water usage.
Use high-speed spin when possible to remove more water so the dryer doesn't have to work as hard.
Use the correct amount of detergent. Too little results in clothes that aren't clean; too much causes the washer to work too hard and may require an extra rinse. Washers with suds-saver control allow reuse of the initial wash water for lightly soiled laundry.
Consider a horizontal-axis washer if you need to replace a top-loading washer. The front-loading washers use as much as two-thirds less water than top-loading washers.
Clothes Drying
Dry like-weight items together.
Clean the lint filter after every load.
Dry full loads of clothes without overloading. Generally, a washer load is a dryer load.
Don't over-dry. It wastes energy, sets in wrinkles, and stiffens fabrics. Use the automatic drying cycle. It determines when clothes are dry and automatically turns off the dryer.
Put the next load in before the dryer cools from the first load. That way the dryer does not have to heat back up again.
Consider the cool-down cycle for clothes that may need ironing. It tumbles clothes in room temperature air during the last five to ten minutes of the cycle to reduce wrinkles, ironing, and energy consumption.
Keep the outside dryer vent clean.
Never add wet items to a partially dry load.
Vent the dryer outside. Inside venting can cause moisture and lint buildup in your house.
Water Heaters
Here are some tips for reducing your energy costs when heating water:
Set thermometer to 140 degrees Fahrenheit if you have an automatic dishwasher. Otherwise, set at 120 degrees Fahrenheit. Reducing from 140 degrees Fahrenheit to 120 degrees Fahrenheit can save over 18 percent on energy costs.
Use the coolest water setting possible for washing clothes and household cleaning.
Turn off water heater when you will be away for the weekend unless there is the chance of freezing.
Wash only full loads of dishes and clothes.
Insulate hot water storage tank and piping. Be sure not to block air vents. This can save $8-$20 per year.
Drain a few gallons of water from the tank every six months. This increases the efficiency and life of the water heater by removing sludge from the tank.
Use a water heater timer for electric units.
Provide annual maintenance, and keep the unit clean.
Purchase a new energy-efficient water heater with the proper capacity for your family's needs. If you're in the market for new appliance, always consider an Energy Star qualified product.