Payment Kiosks
Payment kiosks: a convenient option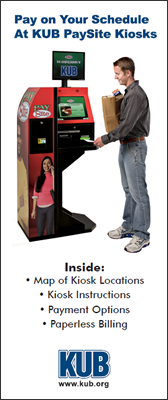 Convenient PaySite kiosks in the KUB service area give you more options on when and where to pay your bill. You also get real-time credit for kiosk payments—even on nights and weekends, when KUB Payment Centers are not open.
The kiosks accept cash or check payments. U.S. Payments Inc., the PaySite kiosk provider, charges a convenience fee of $1.95 per transaction.
The kiosks do not give change, so if you insert more cash than the amount you owe, the difference will be credited to your KUB account. If you put in $60 to pay a $55 bill, for example, your KUB account will be credited with $58.05 ($60 less the $1.95 convenience fee the kiosk provider charges).
PaySite kiosks work like an ATM, with easy to follow touch-screens and keyboards. Screens and receipts are available in both English and Spanish. To start the payment process, you can either scan your KUB bill stub or enter your 10-digit account number.
The kiosk addresses and hours are listed below, or you can visit http://paysitekiosklocator.com/ for that information or to check whether the kiosks are operational or out of service.
Quick Stop
Open 6 a.m.–Midnight
315 Merchant Drive
KAT Transit Center
Open per bus schedules
301 Church Avenue
E-Z Stop Food Marts
Open 24 hours
8605 Walbrook Drive
9200 Kingston Pike
7503 Tazewell Pike
7323 Clinton Hwy.
11311 Chapman Hwy. - Located in Seymour
Food City Stores
Open 6 a.m.–Midnight
7510 Asheville Hwy.
1950 Western Avenue
7608 Mountain Grove Dr.
4344 Maynardville Hwy. - Located in Maynardville
Shell Station
3101 Tazewell Pike