Customer Fuel Line Piping
Protect your home
Metal piping can corrode over time if not properly protected. KUB surveys the service line piping from the gas main to the outlet of the meter. Customers are responsible to maintain their above and below ground customer owned fuel line piping and fittings. Metallic customer fuel line piping should be inspected regularly for corrosion that could lead to small leaks, and it is especially important to inspect buried metallic customer fuel line piping. If you see corrosion, KUB recommends that you use a trained and qualified plumbing, HVAC, or other professional with natural gas piping experience.
What Is CSST?
CSST is a flexible, stainless steel pipe usually coated with yellow or black plastic. Builders use it to supply natural gas in residential, commercial, and industrial structures. CSST is usually routed beneath, through, and alongside floor joists in your basement, inside interior wall cavities, and on top of ceiling joists in attic spaces.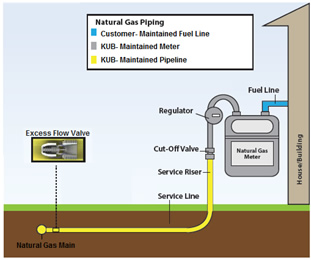 CSST Fuel Lines Need Approved Support
If your natural gas meter has a CSST fuel line, it must have an approved rigid support. CSST is naturally flexible and does not provide adequate support to your natural gas meter.
Local building codes and KUB standards require natural gas meters to have two rigid support points. The service riser from the ground to the natural gas meter (see diagram) provides one rigid support. You are responsible for providing a second rigid support for the customer-owned fuel line.
Please work with a qualified plumber to provide an approved rigid support to your natural gas fuel line at the natural gas meter. After the work is completed, call KUB to have a service technician verify the installation, restart service, and perform any needed relights.
For more information on CSST, visit csstsafety.com
For more information on building codes, call 311 [in Knoxville] or local codes office.
Corrugated Stainless Steel Tubing
Without second approved support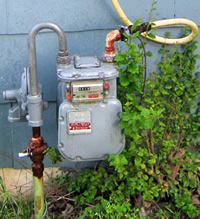 With second approved support